Michael F. Allen (Mike) was born June 27, 1943, in Tucson, Arizona. Mike Allen grew up listening to classical music, for which he had a natural attraction. As a teenager he became a very accomplished self-taught musician and guitarist. At an early age, Allen demonstrated a natural intellectual instinct for science, mathematics, and music. After a stint in the Navy as a sonar technician, Allen located in San Diego, California, and become a professional entertainer and guitar instructor, performing in local clubs, and was a frequent quest on radio and television shows.

Mike Allen idolized Chet Atkins and while in high school set about learning the guitarist's signature songs. He possessed a natural ability to capture the Atkins style of finger picking, and complex chord progressions. Allen had a natural sense of harmony and melody demonstrated in the few surviving solos that he recorded. He developed his own style, adding a percussion effect to his songs by lightly hammering the bass strings with his thumb, blending together the bass line, percussion, melody and harmony lines together into an original and beautiful guitar style.

In the summer of 1965, after the success of the Volume One, Play Guitar with the Ventures album, Bill Savidge, then living in San Diego, became aware of Allen's talent for teaching the Atkins style of guitar and arranged for a series of lessons. At that time, Savidge was in the process of developing a tablature system of teaching Atkins' songs but had reached an impasse. His finger style tablature method could not indicate note values, an essential part of establishing measures and beats. In their first meeting, Allen explained to Savidge how Atkins played a chord bass line on the lower strings while the fingers played melody and harmony on the treble strings. From this first meeting, Savidge found the solution to the Atkins finger style tab charts that allowed him to develop a method that later became the successful Play Guitar with Chet Atkins album.

With the success of the Volume One, Ventures Play Guitar album, Liberty Records immediately began production work on Volume Two, and Savidge set about working out the details. He hired Allen to be his executive producer, responsible for song arrangements, recording supervision, and providing the finished tablature charts for the album instructional book.



Jimmy Bryant Mike Allen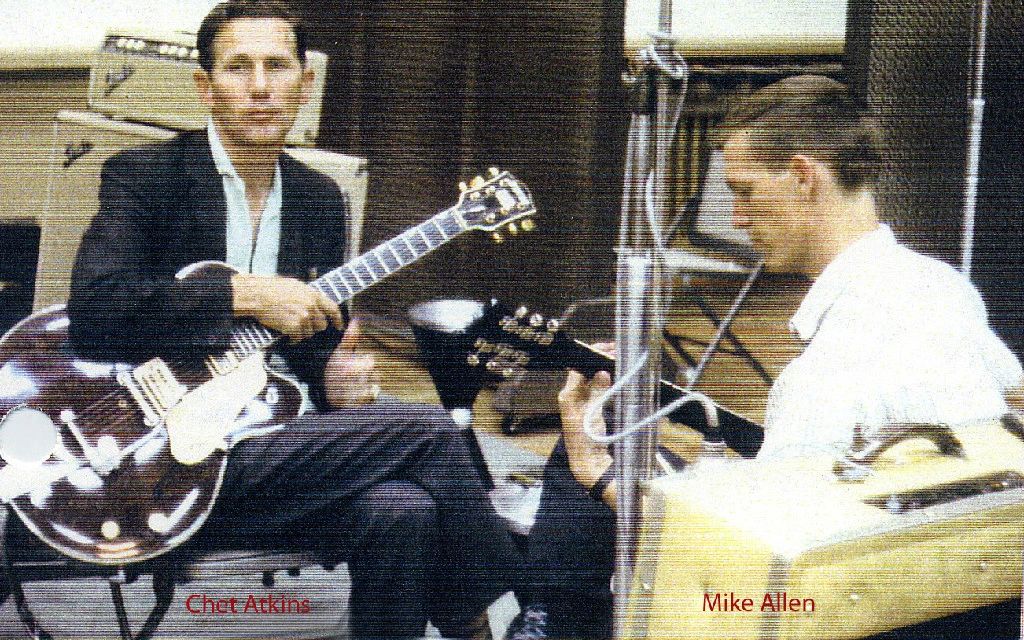 Chet Atkins Mike Allen

Allen performed this function on all succeeding Ventures, Jimmy Bryant, and Chet Atkins play guitar albums. Allen was quite comfortable in the studio and his guidance, knowledge of music, and demonstrated ability with the guitar, was respected by everyone connected with the production process, from engineers, to studio musicians.




Mike Allen....Office - San Diego CA



Mike Allen passed away May 12, 1988. He was a remarkable man of many talents and his contribution in the production of the Guitar Phonics albums was a major factor in their historic success.






Don Blocker Wilbur M. Savidge Chet Atkins Jimmy Bryant The Ventures

[ home ] [ back to top ]



________________END______________