Chester Burton Atkins, better know as 'Chet Atkins', was born June 20, 1924, on an impoverished farm near Littrell, Tennessee.  His parents  divorced when he was six years old.  As a child he suffered from severe asthma and to improve his health, moved to Fortson, Georgia, to live with his farther.  As a child, he started out playing ukulele, but quickly moved up to the fiddle and became an accomplished player.  At age nine, Atkins acquired a beat-up flat top guitar from his older brother and his passion for music blossomed.

Atkins became and accomplished guitarist while in  high school: however, he did not have a distinguishable style of his own until he heard Merle Travis finger picking songs on the radio.  He was fascinated with the two-part sound Travis was creating; playing melody on the high strings, and bass notes on the lower strings.   While Travis played melody with the index finger while keeping a steady bass note with the thumb, Atkins developed the technique of playing with three fingers and his thumb, which gave him a much more complex sound, quickly to become known as the 'Atkins Style'.

As a teenager, Atkins played on local radio stations as a side-man for the station's band, often as a fiddle player, before his abilities with the guitar were noticed.  In 1949, he joined Mother Maybelle and the Carter Sisters, when the group signed on with the Grand Ole Opry.  His talent as an all around musician soon attracted the attention of record producers in Nashville, and he became a talented studio musician backing up many of the biggest recording stars of the day. 

In the early 1950s, he was signed by RCA Records and in 1957 put in charge of the local operation and was instrumental in the design and construction of the legendry Nashville, RCA Studio 'B'.  In 1968, Atkins was promoted to vice president of RCA's Nashville division. Over the years he became one of the top record producers in Nashville, and  is credited with having created the 'Nashville Sound'.  He recorded Waylon Jennings, Willie Nelson, Dolly Parton, Jerry Reed and many other top RCA artists. 

While considered a 'country picker', his style of playing allowed  him to record every genre of music.  He recorded songs across the music spectrum:  Pop, Classical, Blues, Flamenco, Jazz and Folk, and recorded two albums with the Boston Pops Orchestra.  His body of recorded work (over 400 songs) includes a relative small number of true country songs.

In 1954 he signed on with the Gretsch Guitar Company and indorsed his own line of successful instruments.  His personal 1961 Gretsch Country Gentlemen, model 2120, Serial # 3144, was used on more of his recordings than any other of his guitars. (This is the instrument he used on the 'play guitar' album)  In the early 1980s, he switched over to playing Gibson guitars and designed several very successful models for the company, notable the Gibson Chet Atkins (solid body) Classical Electric shown in the picture below, and the Gibson CG (Country Gentleman) model that he  played extensively in his later years.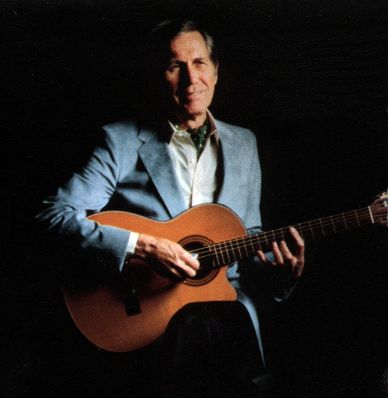 In 1965, Chet Atkins was at the peak of his career when he recorded the 'Play Guitar With Chet Atkins' album,  the first instructional product that faithfully taught his style.   Thousands of guitarist learned to play Chet Atkins finger style guitar from this highly successful  educational record. 

                               
    "Years from now, after I'm gone, someone will listen to what I've done and know I was here"


                                Chet Atkins passed away at his home in Nashville, June 30, 2001. 
                               


           


              Home    Wilbur M. Savidge    Donald W. Blocker     Jimmy Bryant    The Ventures


                                                        [ home ]         [ back to top ]



                                            ________________END______________